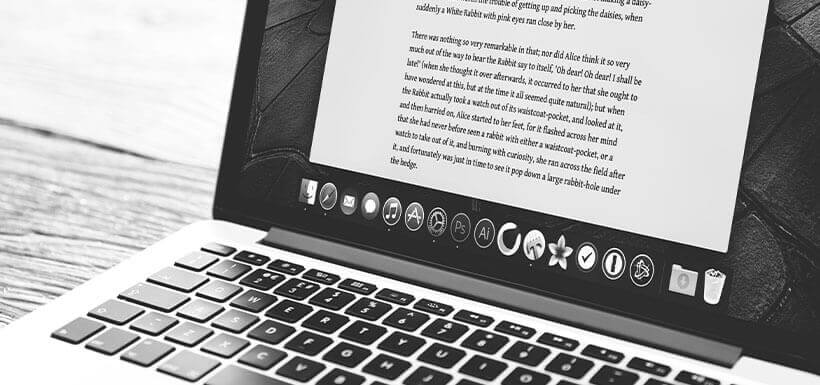 Admit it. You've procrastinated once or twice…or several times. As a blogger, you need to be on the Internet, meaning it's all too easy to become distracted. However, if you want to succeed as a blogger, there is a lot of hard work to be done and only so many hours in the day!
Stop procrastinating by adding these 16 productivity tools to your blogging toolbox.
Writing Tools
Naturally, writing is one of the most important tasks a blogger has on their plate. Keep these writing tools handy to create top-notch content.
1. WriteRoom
Ever get tired of the endless notifications, obnoxious screen views, and clutter when writing? If so, download WriteRoom. WriteRoom is a laptop app designed to help writers hone in on their work with zero distractions. If you often find yourself overwhelmed by the sheer amount of buttons and options on the screen, an app such as WriteRoom can help.
2. Ommwriter
Ommwriter is similar to WriteRoom in that it helps you concentrate solely on your writing. However, in addition to a focused view, users are also treated to calming audio tracks, typing sounds for creativity, and natural backgrounds for inspiration.
Give Ommwriter a try the next time you need a creativity boost or time to focus.
3. Grammarly
All bloggers know editing and proofreading are key. However, how long do you spend doing this? You could be far more productive if you cut this time in half with Grammarly. In addition to spotting grammatical, sentence structure, and spelling errors, Grammarly helps strengthen your writing with wording suggestions.
While Grammarly is a phenomenal editing tool, nothing beats a final human-eye proofread.
4. Hemingway App
While it's no secret that becoming a better writer takes practice, you can also use the Hemingway App to improve your writing in the meantime. As noted on their website, Hemingway App seeks to make your writing bold and clear. The tool has a readability score along with formatting options and a writing mode for a full-fledged writing app. Meaning, you can use Hemingway as a writing app and an editing tool at once.
Project Management Tools
Do you find your productivity flies out the window as a result of too many tasks? Or, are you less productive due to multitasking or task mismanagement? If so, these project management tools are exactly what you need to organize your work day and reclaim your productivity.
5. Trello
Trello is a collaborative project management software which uses boards and cards to organize projects and tasks in a visually appealing and simple format. At any time, you can see the status of projects, to-do lists, and more thanks to the easy-to-use platform.
Rather than scribble down a to-do list every morning (only to spill coffee on it later), all your tasks for the day are in one place. Plus, using this app cuts back on "What's the status of this project?" conversations with teammates, leaving more productivity time for you in the long run.
6. Asana
Similar to Trello, Asana is a project management app which focuses on tracking work for the ultimate productivity. Using Asana's calendar mode, My Tasks mode, and other views, you can get a quick glimpse of your workload for the day. Plus, you can see the progress of projects, who's responsible for specific tasks, and more all within seconds.
To up your productivity game, connect Asana to the Harvest Time Tracker. You'll be able to see how long it takes you to complete your blogging tasks. The time tracker also connects to invoicing software to help you maximize your time.
Task Management Tools
If you prefer a to-do list approach to managing your workload, these task management tools are exactly what you need.
7. Todoist
Todoist is a free task management app that helps you organize all your work in one place. The appealing design and simplistic functionality make it the perfect to-do list tool for busy bloggers. With color coding capabilities, team sharing options, and visible progress charts, you'll be able to see your workload at a glance anytime you want.
8. Toggl
Are you blogging for others? If so, you may be charging by the hour or be required to submit a timesheet. To ensure you know exactly how long you worked, use Toggl. Toggl is a free time tracking app available for multiple browsers and operating systems.
In addition to tracking your time, the app also allows you to assign your time worked to specific projects, tasks, and objectives. Plus, Toggl can also act as a task management tool with the ability to assign projects, tasks, and responsibilities and track overall progress.
9. Zapier
Have you ever thought to yourself, "There needs to be an easier way to connect these two tools" or "I wish there was a way to expedite my tasks." With Zapier, you can!
Zapier is a tool that connects apps with the intent of automating processes by creating workflows. For instance, you can tell Zapier to automatically send your published WordPress blog post to Buffer to be scheduled for your selected social media channels.
The workflow possibilities are endless! Use Zapier to amplify your productivity and focus on your blogging.
Focus Tools
As most bloggers know, it is all too easy to get distracted. When you need to put your head down and work, take advantage of these tools designed to help you focus.
10. Coffitivity
Based on extensive research which proves a coffee shop has the right amount of ambiance for focused work, Coffitivity brings the sounds of a cafe to you. Choose between different cafe environments, from a bustling university coffee shop to a lounge at lunchtime.
11. Hipster Sounds
Just like Coffitivity, Hipster Sounds offers ambient noise designed to get you in the zone. In addition to coffee shop chatter, Hipster Sounds also provides Premium users with sounds such as calming rain and the hum of a library.
12. Focus Booster
If you want to track and maintain your concentration, the Focus Booster app is for you. The app is based on the Pomodoro concentration technique and helps you visualize your distractions, focus habits, and also tracks your work time.
13. StayFocusd
Do you find yourself veering away from your work to scroll aimlessly through social media, news websites, or video channels? If so, you need to install the StayFocusd Chrome extension! This Chrome extension blocks the websites you tell it to, so you can spend less time scrolling and more time blogging.
Social Media Tools
Every blogger knows just how imperative social media marketing is for growing a blog audience. Use these tools to automate your social media tasks and improve your productivity.
14. Social Media Scheduling Apps
Scheduling social media posts manually and natively can be cumbersome. Instead, rely on these social media scheduling tools to improve your overall productivity:
Buffer
Hootsuite
MeetEdgar
Sprout Social
Each platform allows you to schedule social media posts in advance for a variety of networks. Additionally, the tools also offer a multitude of functionalities designed to speed up your social media work.
15. Pocket
Content curation is an excellent tactic for drawing in a blogging audience. Save articles to read later with Pocket. The app and browser extension allows you to save articles "in your Pocket" and access them later without needing to bookmark the page or leave the tab open.
16. LastPass
How much time do you waste trying to remember your social media and blogging passwords? Reclaim this time by using LastPass. This secure tool saves all your passwords in one place.
What tools do you use to enhance your productivity and blogging processes? Let us know in the comments.