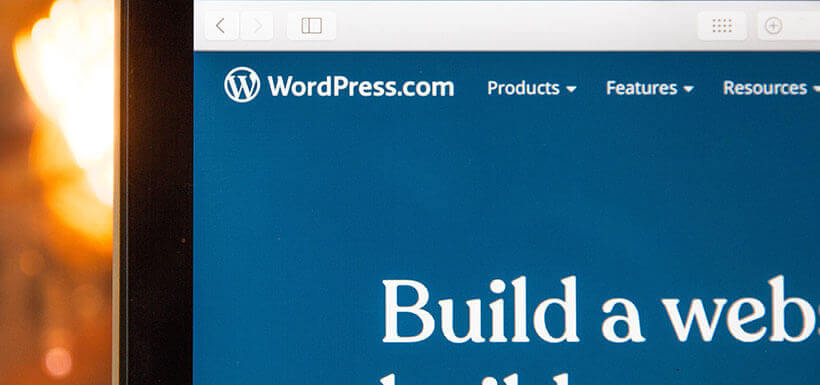 WordPress powers over a quarter of the world's websites, including many, ranked in the web's top 100. Although this free, open source site builder was originally designed for blogging, WordPress is now the platform of choice, not only for personal and business blogs but also for many other kinds of sites.
With the help of thousands of WordPress themes, plugins, and extensions, users of all skill levels can build in all the functions they need to create online stores, portfolios, membership sites, professional pages, and more. Versatile, flexible, and endlessly customizable, WordPress isn't just for blogging anymore.
WordPress Makes Publishing Possible
WordPress was developed back in 2003 as a tool intended for bloggers – a way to make online publishing accessible to everyone, according to its founders Matt Mullenweg and Mike Little. That's why WordPress remains free, an open source software platform that can be modified and shared by anyone in the worldwide WordPress community.
In the years that followed, WordPress was welcomed not only by bloggers looking for flexibility and control in a full-featured content management system, but also by entrepreneurs, creatives, and professionals in fields of all kinds who found that the basic WordPress platform could be adapted to meet the needs of many different types of sites. That's because the three core WordPress elements – source code, themes, and plugins – can be modified, mixed, and matched to create unique, highly customized websites, even by users with no experience in website development.
WordPress Has Tools for Blogging – and Beyond
Many site owners do use WordPress for blog posts, and the origins of WordPress as a blogging tool is clear in its content editor, which is oriented toward creating text. With a clean, minimal text box that comes in both visual and HTML formats to meet the needs of both new users and experienced developers, the content editor is the key to fleshing out the basic WordPress structure with a full complement of pages, blog posts, and other elements. The basic WordPress content editor reflects its origins as a blogging tool with its array of text formatting tools, but it also offers options for adding images and embedding the video.
The content editor can be extended with plugins that add a variety of other content management tools for further customization options like visual elements through slideshows and galleries. And as WordPress has evolved toward a wider functionality, tools, such as the plugin Elementor and the new block-based editor Gutenberg, allows users to take a more visual approach to create content overall.
The WordPress Code Provides the Structure
The basic WordPress "package" is always free, and it can be downloaded from WordPress.org and installed on any web host. It consists of a set of HTML files that define the core functions of a WordPress site, and that includes the content editor – the essential tool for creating a site's posts and pages.
In all its forms, though, WordPress remains an open source software, which means that individual WordPress users are free to modify it as needed for their own sites or to share those modifications with others. Experienced web developers can work directly with the source code to add features or alter the appearance of the site through different customization options, and new users can use preset customization features available with WordPress themes and plugins to get the look and feel they want.
WordPress Themes Customize the Look
The WordPress source code establishes the structure and essential functionality of your site, but its appearance is defined by its chosen theme – and there are thousands of WordPress free and premium themes to choose from. Many are available from the official WordPress theme directory, but more can be purchased – or downloaded for free – from WordPress developers around the globe.
WordPress themes allow users to expand the functionality of a site in many different directions, with themes designed for blogging, e-commerce, creative portfolios, and more. New users can customize a theme's presets through settings on the site's admin dashboard, while more experienced developers can make changes directly to its style sheets and scripts.
Plugins and Extensions Add More Functions
Plugins are the third essential element of the WordPress blogging platform, and they can be installed in any WordPress site to add niche-specific functions that turn a basic WordPress install into an online store, photo gallery, landing page, or any other kind of business or professional site.
Plugins allow WordPress users to add contact forms, collect money, create social networks, display their social media, and build online magazines. For example, e-commerce plugins like WooCommerce can add a complete online shop to your WordPress site. Gallery plugins allow photographers, artists, and other creatives to showcase their work. Additionally, a variety of business-oriented plugins add functions such as statistics, database management, and other functions for small and large companies.
Plugins can be installed directly into your WordPress theme from the official Plugin Directory, or they can be purchased separately from developers and asset marketplaces, and then uploaded to your WordPress install. Plugins can be customized through their setting options, and premium plugins typically offer user support, tutorials, and other features.
Many plugins also come with the option of extensions: add-ons that provide even more functions on top of the basic ones. Plugins combined with extensions allow users to customize sites even more, so that it is possible to create virtually any kind of site, for any purpose, from a basic WordPress install. As the digital world evolves, new plugins are constantly being developed to add even more options for customizing WordPress sites.
WordPress may have started as a blogging platform to make the tools of online publishing available to anyone, not just experienced website developers, but thanks to its flexibility it has become much more than that. Today's WordPress users range from newcomers to denizens of the blogosphere, to multinational corporations with complex websites that don't even include a blog. All of these unique sites are based on the WordPress source code. With the core code files combined with themes and plugins that add the specialized functions you need, your WordPress website can be anything you want it to be – even a blog.