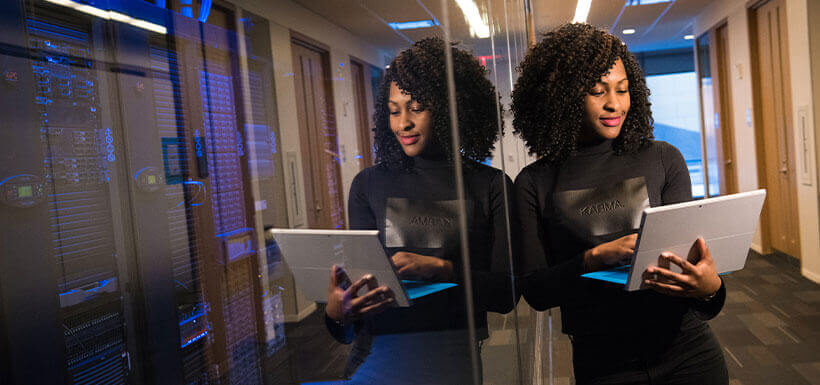 For growing businesses who need more hosting features than basic shared hosting, but aren't ready for dedicated hosting on a private server, VPS, or virtual private server hosting, can fill the bill. Flexible, scalable, and more secure than shared hosting, VPS offers users the experience of a private server with the economy of a shared physical space.
How Does VPS Hosting Services Work?
VPS hosting combines features of both shared and dedicated hosting, designed for those whose sites have outgrown the limitations of a shared hosting environment. This hybrid model uses a form of virtual technology called hypervisor to partition a single server into multiple independent spaces, or virtual machines, each with its own operating system and infrastructure. Although each VPS site on the server operates in isolation, it receives an allocation of the server's shared resources, which are distributed among all the sites using that server.
A user's virtual machine can be used to host a single company website, or to host multiple websites under a single account – a strategy that might be used by startup web hosting companies for hosting the sites of multiple customers. But, all sites hosted by an individual virtual machine must still draw a share from the available resources of the single hosting server.
In this way, virtual private server hosting allows users to configure and manage sites independently, as with a dedicated server, but at a much lower cost. In a VPS hosting environment, users can enjoy complete control over virtually all aspects of a site's features and functions, with better performance and scalability than shared hosting. For many businesses, VPS hosting services may have all the features needed to accommodate growth, without the need for "upgrading" to dedicated hosting at all.
VPS Offers Control and Customization
In shared hosting environments, users typically have relatively limited control over the features and functions of the sites they own. A host's individual hosting packages can establish which aspects of a site can be changed or reconfigured but, in general parameters, are set by the host, and users typically are not given the level of access needed to configure core aspects of a site's appearance and functions.
As in all other hosting environments, the VPS hosting provider is responsible for the maintenance of the physical server, as well as for upgrading server software and managing its core resources of memory, bandwidth, and computing power. But, users can take control of all other aspects of configuring and managing their sites.
In VPS hosting, users have full access to the site's operating system, including unrestricted root access and administrator permissions. That allows site owners with experience in web development and design to configure their sites from the ground up, with the ability to configure the site's infrastructure and install any software or applications that are relevant to the company's operations. That might include installing industry-specific security features, payment gateways or apps for protecting consumer information. For those without this level of technical expertise, though, VPS hosting providers typically offer support and assistance for setting up and maintaining sites on the virtual server.
VPS Improves Performance
Sites in a shared hosting environment can be affected by issues involving neighboring sites on the server. Surges in traffic, security breaches, and other events affecting other sites can cause a site to experience slow speeds or downtime – or even crash because of sudden demand placed on a shared server's resources spread among hundreds or thousands of sites.
VPS hosting improves site performance because it reduces the risk of problems like this, although it doesn't eliminate them entirely. Because each VPS site is isolated from others on the server, users face a lower risk of "contamination" from a compromised neighboring site. But VPS users still share a single server, even if it hosts fewer sites than a typical shared server would. That means that each account has an allocation of overall server resources, just as in a shared hosting environment. And, in the same way, when another site on the VPS server happens to draw more than its allotted share, that can affect the performance of other sites around it.
VPS Enhances Security
VPS hosting can be significantly more secure than shared hosting, thanks to the virtual partitioning that keeps sites separate. It also has the ability for users to install the kind of security features that are relevant to the site's specific needs.
VPS hosting providers are responsible for installing and maintaining the essential security features of the server itself, which provides protection against a wide range of web-based cyber threats or prevents cybercriminals from attacking. But, because sites on those servers maintain their separateness, the risk of infections by malware and viruses from an adjacent site is greatly reduced. Users are also able to directly install any type of security and monitoring applications they need within the site itself so that security measures can be customized to suit individual needs.
VPS Can Be Scalable
For users looking for more room to grow, VPS offers a level of scalability that's beyond the scope of most shared hosting and offers users a smaller slice of a server's shared resources. With fewer accounts drawing from the resources of a VPS server, users typically have access to more bandwidth and memory. But, those resources are still finite, so a site that experiences rapid growth and a significant increase in traffic may still need to upgrade to another service tier or find another hosting solution, such as a VPS host with larger allocations or even a dedicated hosting provider.
An Economical Solution for Growing Businesses
VPS hosting plans offer an economical hosting alternative for small but growing businesses. With basic VPS plans that can rival the higher tiers of shared hosting packages, VPS offers many of the benefits of much higher priced dedicated hosting services. Within the VPS hosting environment, users can also choose from a variety of tiered plans with varying service options ranging from completely unmanaged to managed services that handle most aspects of a site's setup and daily maintenance. Within the parameters of the shared physical server, VPS hosting can be upgraded as needed, at predictable monthly rates.
VPS hosting isn't for everyone. But, this hybrid solution combines essential features of lower cost shared hosting with the privacy and control of higher-end dedicated server hosting to offer growing businesses a flexible hosting option for the present – and the future.