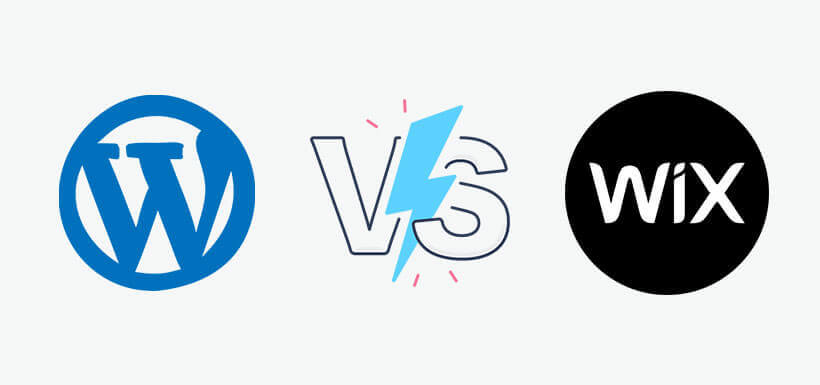 WordPress is the most popular website builder in the world, but it isn't the only one. Easy to use, drag and drop page builders like Wix offer site owners with no technical background the tools to create attractive, fully functional sites within minutes. Wix and self-hosted WordPress both make beautiful sites, but they are very different in terms of features and costs. Here's a look at the differences between WordPress vs. Wix and what they both have to offer.
Website Builders and Content Management Systems
Wix is a full-service site builder that makes it easy for even the newest of users to quickly set up a website in a variety of different niches. The self-hosted version of WordPress from WordPress.org makes a number of different page builders such as Elementor, Gutenberg, and Divi available to its users – but WordPress was conceived as a content management system that features a bare-bones content editor and can be populated with text, media, and links. Both Wix and WordPress can be used to set up a working website without knowledge of code, but there are significant trade-offs between the fully hosted Wix and the mix and match the flexibility of self-hosted WordPress that new site owners may want to consider.
Ease of Use
As many already know, there are many benefits of using WordPress, which is why so many users turn to this platform. However, it's also important to note that Wix also offers a variety of features that are highly desired among website owners as well. Wix advertises itself as a full-service site builder that anyone can use. Using one of the more than 500 website templates Wix offers, users can drag and drop elements to create a site in minutes without any coding. Because Wix is a hosted platform, its developers maintain control over all the available tools and applications, so users can't import outside tools from other sources. Once a new site owner chooses a template, they're stuck with it. Website templates can't be quickly changed as a site's identity evolves, but the Wix interface is user-friendly, made with beginners in mind, and it offers round the clock support for troubleshooting and answering questions.
With WordPress, many more functions are left up to the user. Self-hosted WordPress sites come with an administrative dashboard that provides access to the tools needed to install a theme, make basic customizations, compose a page or post, and add any plugins needed for added features.
Learning to work with the WordPress dashboard and the many available theme and plugin options requires a somewhat steeper learning curve than Wix does. Additionally, finding support can be a do-it-yourself effort that involves sifting through thousands of forums, tutorials, and websites devoted to the workings of WordPress. However, although WordPress users don't have direct access to a dedicated user support portal, the worldwide WordPress community offers advice and information on just about any aspect of using WordPress.
Flexibility and Versatility
Depending on your website's purpose, you may need to consider future expansion and the ability to scale up to meet additional demands as your business grows. Although Wix offers tools for creating and running a fully functional website, it may not include all the features you need to accommodate growth. Wix is fully hosted, which means that its shared platform allows storage and bandwidth among Wix users, depending on the hosting plan they have purchased. This could be a problem for a site that experiences a sudden surge in traffic or needs more resources to run secondary applications.
Wix also limits a user's options for customizing the site. Although Wix users have access to hundreds of well-crafted templates for setting up a site, it isn't possible to import one from an outside source. And although Wix allows users to add extra functions by choosing from its library of "applications" (analogous to plugins in WordPress), users may have to pay additional monthly fees to use them and, again, they are limited to only those applications provided by Wix itself.
One reason for the enduring popularity of WordPress is its virtually limitless versatility. Once the core WordPress code is installed, users can draw from the official WordPress theme and plugin directories, as well as from the products of developers worldwide to customize their site, and add features to meet its unique needs. WordPress makes it easy to switch themes as a site's identity changes and to add and delete plugins as needed. Also, while WordPress users don't need to know to code in order to set up and run a site, those with development skills can fine-tune WordPress even more by working with the core code, as well as theme and plugin files to fine tune the site's appearance and features.
Costs for Setup and Maintenance
The cost of setting up and running a website depends on a wide range of factors, and that can change considerably over time as a site evolves. Because it's a hosting platform, as well as a site builder, Wix makes it easy for users to calculate costs with a tiered series of monthly plans that also include a domain name and varying levels of storage, access to add-on apps and more. There is also a completely free starter plan, but it has limited features and requires users to accept advertising on their site. As a site grows and changes, users, can scale up to a higher pricing plan that offers the features they need.
Because Wix offers all of its tools in packages with fixed monthly fees, users don't need to factor in external costs, such as hiring developer services or purchasing assets from outside sources. This kind of one-stop shopping makes it especially attractive to new users looking for an easy and relatively economical way to set up a site, even though it limits options for customization and specialized functions.
WordPress itself is free to download and install – and it is possible to set up an entire site nearly for free with a basic hosting package and free themes and plugins from the official WordPress directories. But depending on the features and functions a particular site needs, the actual cost of setting up and running a WordPress site can be highly variable. Those costs include buying and registering a domain name and can also include purchasing any premium themes and plugins needed to get the right look and functionality for the site, or hiring a developer to work with the site's core code.
E-commerce Support
E-commerce is booming – and just about anyone can set up an online store with both Wix and WordPress. Wix includes a number of e-commerce themed templates for setting up your site, but to get full e-commerce functionality that includes the payment gateways PayPal and Authority and other key e-commerce tools, you would have to buy their e-commerce web hosting package at a higher monthly price than the standard fees.
With powerful e-commerce plugins like the worldwide favorite Woocommerce, WordPress offers an array of e-commerce themes and plugins to create an online store of any kind and scale it up as the venture grows. Installed on any basic WordPress site, Woocommerce and similar free and premium plugins allow users to choose from a variety of payment gateways, product display layouts, and shopping cart configurations to do business both locally and globally.
Both Wix and WordPress put the tools for creating a visually appealing and fully functioning website within the reach of any user. Wix is a hosted site builder that promises an all-in-one site building solution, but users are limited to the features and tools created by its own development team. That's a trade-off new users with small sites might be willing to accept – but for site runners who crave control over all aspects of their site and the flexibility to build in new features as it evolves, self-hosted WordPress offers unlimited options for unlimited growth. Now that you know the differences between WordPress vs. Wix, you can now choose the one that's best for you and your site.
For further questions regarding our WordPress hosting vs. regular web hosting packages, check out our website or contact our customer support team today. Our website offers a variety of WordPress products to help you get your site up and running.